When picking a yarn for a project, there are two main components you need to consider. The first is the weight of yarn that is used in the pattern and the second is the pattern gauge listed in the pattern. Which is the most important when deciding on yarn? I would say pattern gauge! But before I dive into why, let's first start at the basics and talk about yarn-weights…
Yarn-Weight: The Basics
Every yarn is classified as a particular weight – some yarns will list the weight on the yarn label (or use a number system that corresponds to a particular weight). Below is a reference table as well:
| YARN-WEIGHT NUMBER | YARN-WEIGHT | TYPICAL GAUGE RANGE IN STOCKINETTE STITCH | TYPICAL SUGGESTED NEEDLE SIZE |
| --- | --- | --- | --- |
| 1 | FINGERING | 27 – 32 stitches = 4″ (6.75 – 8 stitches per inch) | US 1 – 3 |
| 2 | SPORT | 22 – 26 stitches = 4″ (5.75 – 6.5 stitches per inch) | US 3 – 5 |
| 3 | DK | 21 – 24 stitches = 4″ (5.25 – 6 stitches per inch) | US 5 – 7 |
| 4 | WORSTED/ARAN | 16 – 20 stitches = 4″ (4 – 5 stitches per inch) | US 7 – 9 |
| 5 | CHUNKY/BULKY | 12 – 15 stitches = 4″ (3 – 3.75 stitches per inch) | US 9 – 11 |
| 6 | SUPER BULKY | 8 – 11 stitches = 4″ (2 – 2.75 stitches per inch) | US 11 – 17 |
Please note that the gauge listed for each of these yarn-weights is listed as 'typical' but that doesn't mean that every pattern that calls for, say, DK-weight yarn will have a pattern gauge of 21 – 24 stitches = 4″. Some stitch patterns such as cables, ribbing, slip stitches, etc will often cause the gauge to be outside of these typical ranges.
When choosing a yarn, why is pattern gauge more important than the yarn-weight listed?
Paying attention to the yarn-weight used is important (and is usually a good starting point when considering yarn substitutions), but the pattern gauge is really the most important thing in my opinion. Here's why – although each yarn-weight has 'typical' gauges associated with it, that doesn't mean that you can't use a different weight yarn to achieve the gauge called for in the pattern. For example, you can use a worsted-weight yarn to get a gauge that typically falls in the bulky-weight gauge range – it just means that the fabric with your chosen yarn at that gauge may have a different feel or drape. You can get virtually any gauge with any yarn – the question is just if you will be happy with how the fabric looks and feels! And, you just need to consider how this difference in fabric may affect the design and how the garment will drape when it's done.
Example: Worsted-weight yarn knit at DK, worsted AND bulky gauges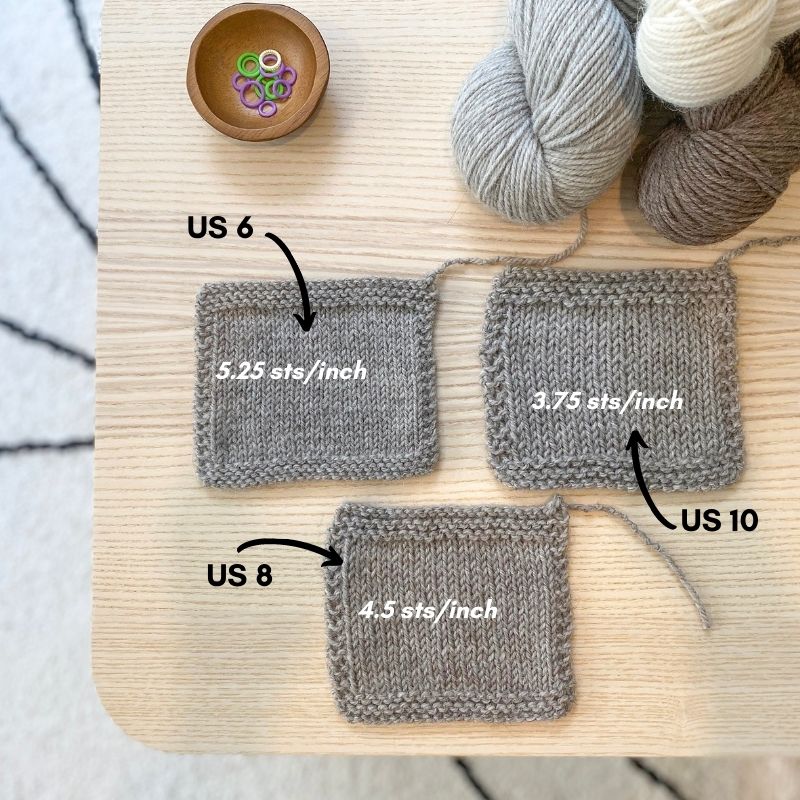 The above photo is a perfect example of this! All three of those swatches are knit with the exact same yarn – Berroco's Ultra Alpaca, a yarn classified as a worsted-weight. Here are some important notes about these swatches:
I achieved the typical worsted-weight gauge of 4.5 stitches per inch on a US 8 needle. The fabric has a nice consistency – not too loose, not too tight.
By going down 2 needle sizes to a US 6, I got a gauge of 5.25 stitches per inch. This is a more typical DK-weight gauge (as you can see from the table above), but I was able to get this gauge with a worsted-weight – it's just that the fabric at this gauge is a bit dense, But if I wanted a nice, warm, denser-feeling garment, this would work well.
By going up 2 needle sizes to a US 10, I got a gauge of 3.75 stitches per inch. This is a more typical chunky/bulky-weight gauge – using worsted-weight at this gauge, the fabric is a bit looser. This would work well if I wanted more drape and a looser look.
So as you can see, one yarn gave me 3 different gauges and 3 different types of fabric, just by changing needle size. Whether or not I want to use this worsted-weight yarn at the tighter or looser gauge will depend on how I like the fabric and if I think it will work well in the pattern.
One More Example: Sport-weight yarn at a worsted-weight gauge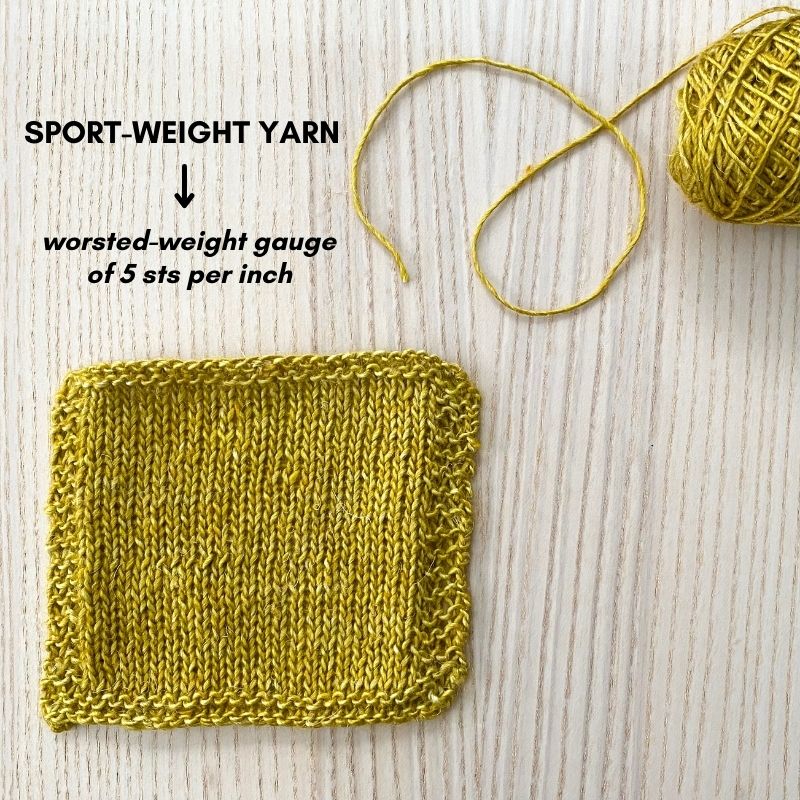 I recently knit up the above swatch in the sport-weight yarn Malabrigo Susurro (I recently used this yarn in my Zester Cowl). As the table from the top of this post illustrates, sport-weight yarn typically has a gauge range of 22 – 26 stitches = 4″ (or 5.5 – 6.5 stitches per inch) with a recommended needle size of US 3-5. This swatch is knit on a US 7 needle and the gauge measures 20 stitches = 4″ (or 5 stitches per inch). This is considered a typical worsted-weight gauge, so the Susurro fabric is a bit loose. But it's quite nice and I can totally imagine it as a drapey spring or summer cardigan. So although it's a sport-weight yarn, I can consider it for patterns that may call for worsted-weight yarns at a gauge of 20 stitches = 4″.
Questions about yarn-weights with one of my patterns?
If you are unsure if a particular yarn substitution will work with one of my designs, feel free to reach out – I'm happy to help!