Double-stranded knitting is one of the easiest techniques out there, but can often seem intimidating if you've never tried it. So I thought it would make a great blog post to talk about the what, why and how of double-stranded knitting!
What is double-stranded knitting?
Simply put, it's when you knit with 2 strands of yarn instead of 1. When knitting double-stranded, every knitting technique is worked the exact same way. Whether it be casting-on, knitting, purling, increasing, decreasing, binding-off, etc. – you work it just as you typically would, just with 2 strands instead of 1!
Why would you double-strand?
There are lots of reasons why, but here are the 2 main ones:
Reason #1: So you can use a thinner yarn for a larger gauge project
Say you have lots of worsted-weight in your stash. Or, you fell in love with a particular color but it's only available in worsted-weight. But the project you had your eye on called for super bulky-weight. Double-stranding to the rescue! By using 2 strands of worsted weight together, you'll create a super bulky-weight fabric. How cool, right? I did some small swatches so you can see – both are knit in Berroco Ultra Wool, a worsted-weight superwash. The left-side swatch is knit regular, just with 1 strand and the right-side swatch is knit with 2 strands of the same yarn – you can see the difference in fabric, and you can also see that when double-stranded you can't even tell it's knit with 2 strands!
So how do you figure out what yarn-weight you'll get when you double-strand a thinner yarn? I created a little cheat sheet below that you can refer to. However, you should always swatch because within each weight classification there are always grades of thinner and thicker (i.e, light worsted vs heavy worsted), and the needle size you use will have a big impact too. But the chart below will at least help give you a general idea and a starting-off point for your swatching: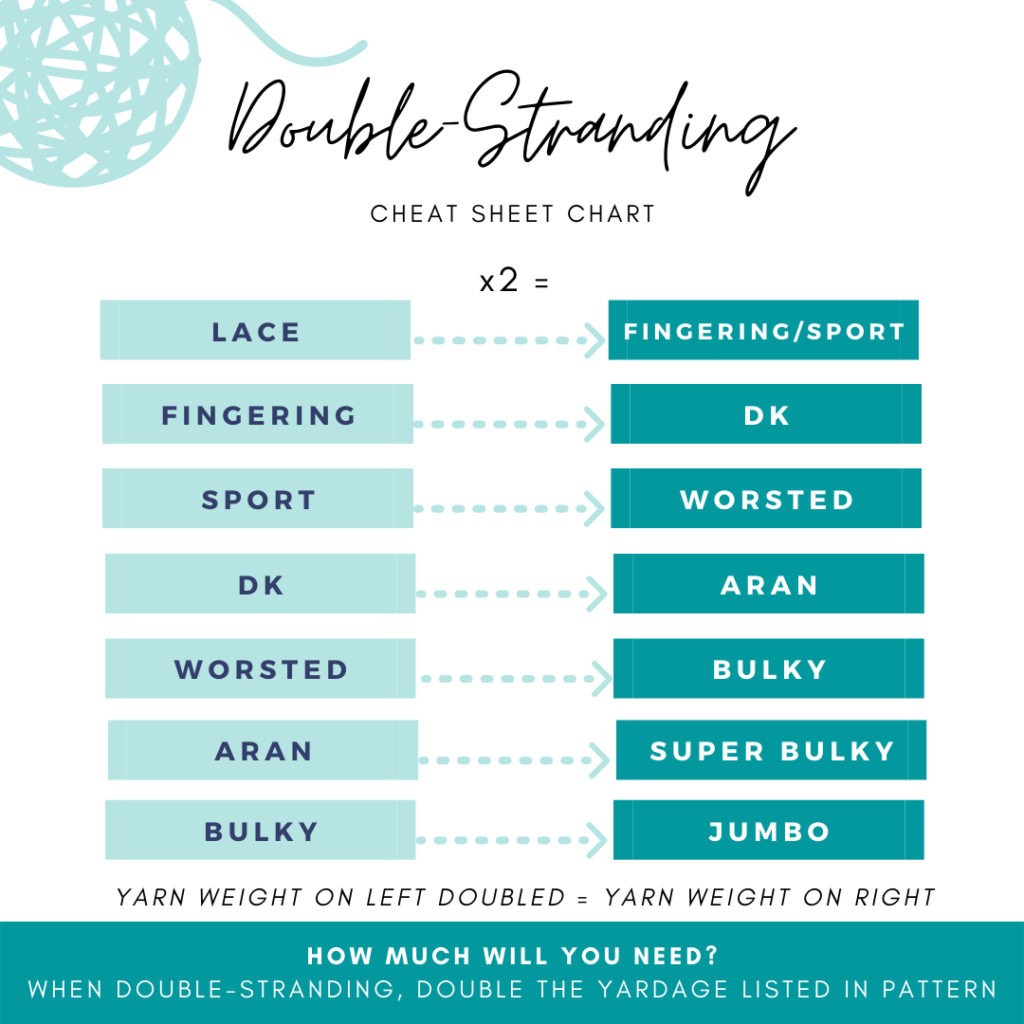 And as I note in the above graphic, to figure out how much total yardage you'll need when double-stranding, simply double the yardage amount listed in the pattern. For example, if the pattern says you'll need 300 yds of super bulky-weight yarn, then you'll need 600 yds of worsted-weight if you're double-stranding it.
Reason #2: So you can play around with color and/or texture
Double-stranding doesn't mean you always have to use the same color (or type!) of yarn together. It's an opportunity to have a little fun and play around with mixing things up! I'll give you 2 scenarios for this:
Double-stranding same yarn, but different colors
By using the same yarn but different colors, you'll create a marled affect. Below is another swatch I did with Berroco Ultra Wool. I used 1 strand in the Morning Glory color and 1 strand of the Lake color:
The affect you get will all depend on the contrast between the 2 colors. In the above sample, the colors have a similar value and so one doesn't 'pop' too much more than the other. I personally prefer this look because it's subtle, but still interesting. But you can play around and see what you may like! You never know until you try, so have fun and you never know – combos that you wouldn't have thought would work might look great.
Double-stranding different yarn and in different colors
You can double-strand totally different yarns and in different colors and you'll get a really neat affect – you'll get a little marled affect but you'll also get some interesting texture! You will often see this technique used when double-stranding with mohair or a mohair-like fiber. I created the swatch below using Berroco Lanas (a worsted-weight wool) with Berroco Aerial (a lace-weight mohair/silk):
In this case, not only are the yarn fibers different, but the weights are completely different. When combining different weight yarns like this, you won't be able to use the cheat sheet – you'll just have to swatch and play around with needle size to come up with the right gauge. In the example above, the worsted-weight Lanas calls for a US 8 needle and that's what I used even when double-stranding it with the Aerial mohair (since the mohair is so thin, I didn't think it would add much bulk). It all depends on the type/thickness of the mohair though so it's very important to gauge swatch. I love the affect this gives – it would make a plain, stockinette stitch sweater so much more interesting!
How do you double-strand?
The key to double-stranding is to treat both strands as one. The knitting itself is the same – just remember when you work a stitch to go through both loops. When it comes to the yarn itself, I find it easiest to work from 2 separate skeins of yarn, although you can also use 1 skein and pull from both the outside and the inside of it.
When preparing to cast-on, pull yarn from each skein and align them so they are the same length. Then make your slip know just like you regularly would: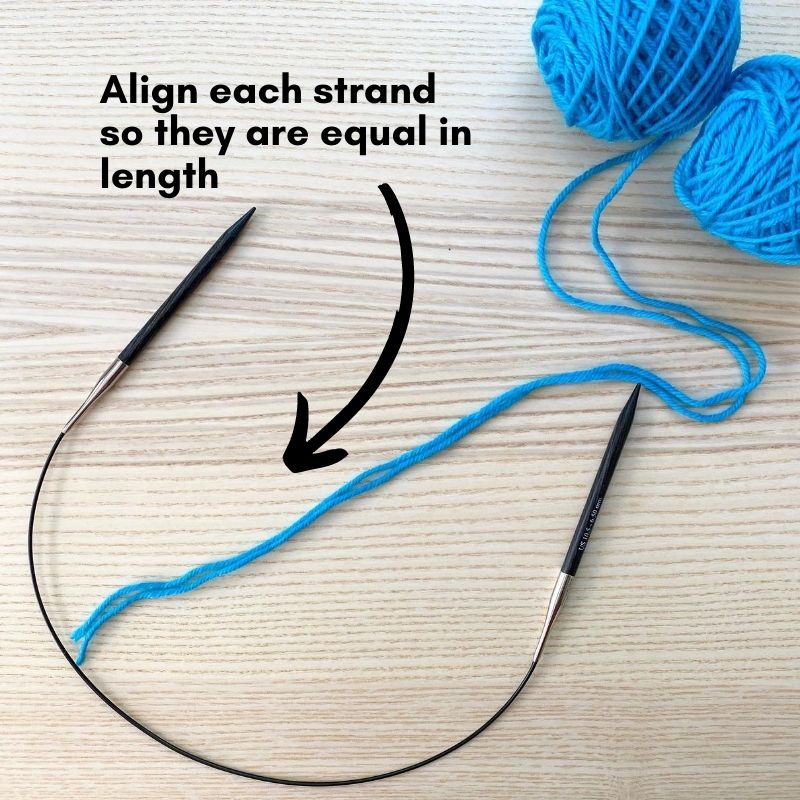 Cast-on your stitches just like you regularly would. As you can see, each stitch has 2 loops to it. When you go to work a stitch, just make sure to go into both loops and treat them as 1 stitch:
Double-stranding video tutorial:
Check out my video below where I walk you through how to cast-on and knit in a double-stranding project!
That's it! Double-stranding is easy and fun.
It's a great way to get a little creative and it's also a fantastic way to try to use up your stash yarn. Want an easy project to test out this technique with? Check out my Cloud Illusions cowl (featured below).