On this page you'll find tips & tutorials for making your own Abbi cardi! I review the following topics:
---
Yarn Ideas
I originally used Quince & Co Puffin for this design. I would classify this yarn as being in-between a regular bulky and a super-bulky. So you can think about using a yarn that falls anywhere between a bulky and a super-bulky, just keeping in mind that at the pattern gauge of 10 sts = 4″, a regular bulky will have a looser fabric and a super-bulky will have a denser fabric. Here are some ideas of other yarns that knit up similarly to Puffin:
Malabrigo Chunky
Rowan Big Wool
& Make (by The Fibre Company) Super Bulky
Berroco Lanas Quick
---
Top-down raglan shaping basics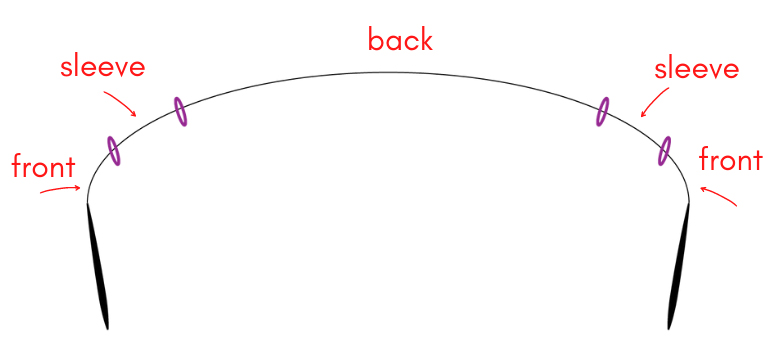 If you are new to top-down raglan sweaters, I recommend checking out this page. It provides an overview of top-down construction, including links to videos of every step of making a top-down raglan sweater (using my Audrey's Cardigan as the example, but the techniques are the same regardless of design). Included on that page is a tutorial to the underarm divide which can be very helpful if this is your first top-down raglan sweater.
---
Underarm Divide
For a tutorial of the whole underarm divide process, check out my page here. I also have a video tutorial linked below – it was for my Audrey's Cardigan pattern but the techniques I use are very similar to that of Abbi. The biggest difference is that for Abbi I use the "knitted-on cast-on" for the underarm stitches whereas in Audrey I use the cable cast-on. Either are interchangeable so feel free to use the cable cast-on like in the video.
---
Picking up stitches for front bands
To create the front bands you will be instructed to pick-up and knit stitches along each front edge and along back neck. For a tutorial of this process, you can watch the video below. Like the Underarm Divide video, it was for my Audrey's Cardigan and so there will be some differences but the technique is the same. Please note that in the video I'm picking up at a rate of 3 stitches for every 4 rows but in Abbi you pick up 2 stitches for every 3 rows.
---
Working the short rows for the shawl collar
The shawl collar is created by working wrap and turn short rows around the back of the neck. To learn more about this technique, check out my page here. This page also includes video lessons on how to work wrap and turn short rows.
---
General technique tutorials